A First Things First-created child care helpline, designed to help address the health and safety needs of child care centers during the COVID-19 pandemic, is gaining usage.
The AZ Healthy Child Care Helpline is available free of charge to Arizona child care centers and home-based providers to call or email to connect with a child care health consultant (CCHC) liaison. These trained health experts can address questions and concerns about required and recommended COVID-19 health and safety strategies that child care centers should follow to reopen or stay open safely. The helpline is funded through a $200,000 grant from the PNC Foundation.
Calls have steadily increased since launching in January as more child care providers are made aware of the free helpline. In June, about 100 calls or emails were received.
"It's scary when you a child or a teacher tests positive for COVID," said FTF's Emily Flanigan, a program specialist in children's health, who tracks helpline usage monthly. "This might be the first time this has happened and you want to keep the rest of your staff and children healthy. There's reassurance in calling someone who has up-to-date facts and information you know you can follow. The people on the other end of the line come from a place of experience."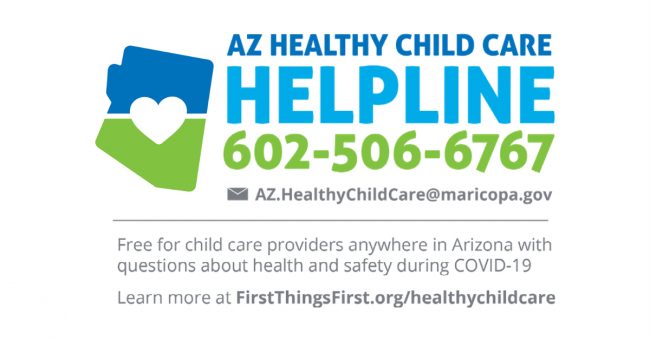 The calls and questions are fielded through a liaison at the Maricopa County Department of Public Health. The liaison ensures the COVID-19 health information and resources made available to child care providers are consistent with state, federal and local guidelines and requirements. Spanish language assistance is also available. In addition, the liaisons have an established contact person at each Arizona county health department to help them understand specific local COVID-19 reporting procedures and proclamations that impact child care providers.
The AZ Healthy Child Care Helpline is available to Arizona child care programs not enrolled in FTF's Quality First program. Those enrolled in Quality First are routed to a child care health consultant who is already assigned to them.
The use of CCHC services provided through Quality First has also increased during the COVID-19 pandemic. In the year before the COVID-19 shutdown, 684 child care programs (66% of Quality First providers with access to CCHC) opted to receive CCHC services. In the year following the COVID-19 shutdown, this increased to 728 child care programs (75% of Quality First providers with access to CCHC).
Almost every provider receiving CCHC services during the COVID-19 pandemic was focused on reducing disease transmission. Last year, FTF created a 14-page document with practical information designed to help providers implement easily to operate safely.
The guide information answers real-world questions like how do you distance physically when caring for an infant. What do we do for positive and suspected cases of COVID-19? How do you inform families? When can children and staff return to care? Do I need to shut down?
The child care providers calling the helpline can rest assured they'll be talking to someone who understands the unique challenges of working with babies, toddlers and preschoolers.
"The CCHC liaison knows what's realistic," Flanigan said. "Sometimes you can't look at what they're doing in K-12 because that is a different setting. Kids under 2 can't wear a mask. You can't isolate small children."