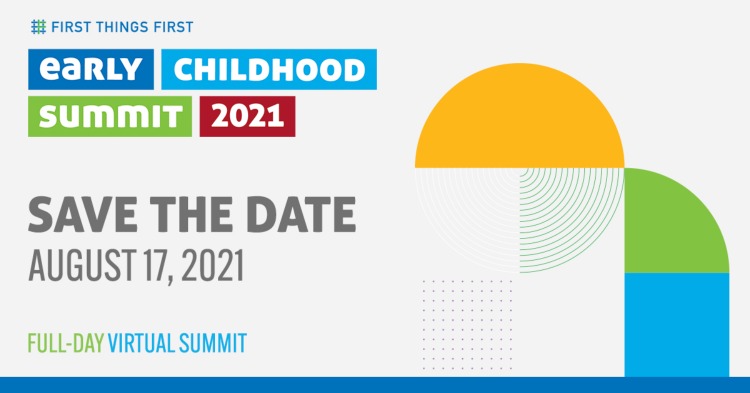 The First Things First Early Childhood Summit 2021 is going virtual again. 
Last year, FTF presented its first virtual conference with more than 4,000 attendees, which almost tripled the traditional in-person conference attendance from previous years. This year, FTF decided a virtual conference on Aug. 17 would provide greater support for Arizona's early childhood field, allowing attendees to interact with speakers, other attendees, exhibitors and sponsors.
"We know the early childhood field has taken a hit during the COVID-19 pandemic, so we wanted to make sure we made this year's Summit safe, affordable, accessible and providing information that attendees can apply to their work," said FTF Director of Leadership and Learning Deanna Carrera, who plans the Summit each year.
The Summit has an admission fee of $35 (June 14-July 18), $45 (July 19 – August 8) and $55 (August 9 – 17).
Attendees can register at Summit.FirstThingsFirst.org/virtual-registration/.
Sessions and speakers
This year's conference will be presented on a virtual platform called Whova, where attendees can access the two keynote speakers and 12 sessions ranging on topics of early childhood development, health, mindfulness, literacy and diversity. All virtual sessions will be recorded and available for 60 days after the Summit.
Opening keynote speaker Dr. John Medina will share the latest research on childhood brain development and tips for caretakers. As a molecular biologist and New York Times bestselling author of his book, "Brain Rules for Baby," Medina shares his own humorous parental experiences and the amazing results he's observed through simple caretaking practices.
Another highlighted speaker is Sharon Day, who is this year's Lanna Flood Memorial Address speaker. Day will share current examples of how indigenous food sovereignty helps to restore health and community. She'll also show how it is supporting young children living in tribal regions.
Closing keynote speaker,  Doreen Oliver will share personal stories and tips for caregivers on supporting families with children who have autism or other special needs.
In addition to the sessions and speakers, there will be a passport contest with a drawing, the announcement of this year's Eddie Basha Award for Leadership and Service winner and the opportunity to discuss topics with other attendees in the community section of the Whova mobile app.
Free special event
The week following the Summit, FTF will offer a free, special event called Tribal Connections 2021, titled The World Journey: Lessons Learned from Partnering with Indigenous Communities Around the World. The free event is a series of virtual 60-minute sessions presented one each day from Aug. 23-31. Attendees will learn from professionals serving young children and families from indigenous communities in countries from around the world. 
Attendees can register for the Tribal Connections 2021 when they register for the Summit or register only for the Tribal Connections event at Summit.FirstThingsFirst.org/registration-form/.