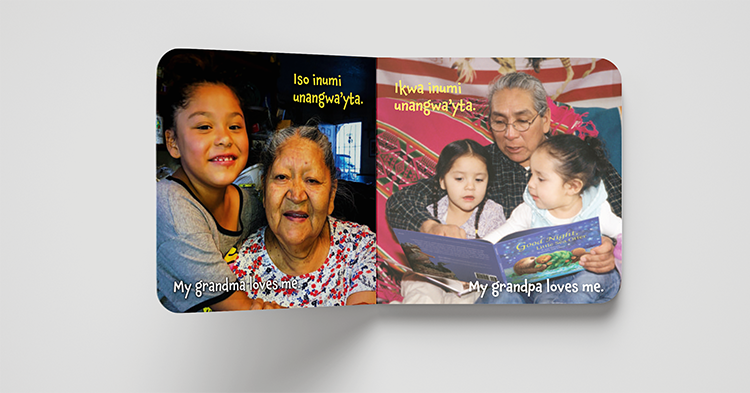 A partnership with the Hopi community and First Things First to create and distribute a bilingual book is highlighting the importance of helping young children connect to and understand their language and culture.
Speaking a native language is important to tribal communities and there are different ways in which they are focusing on language reclamation, said FTF Senior Director of Tribal Affairs Candida Hunter.
"FTF's role is to support the efforts that are happening within the tribe and to think about ways to partner and support those efforts," she said.
Two of FTF's regional councils located in tribal regions—Hualapai and San Carlos Apache—have focused on funding language preservation, but additional FTF regions, such as Coconino, have used FTF resources to purchase culturally relevant books to distribute to families.
FTF Coconino Region's Community Outreach Coordinator Bonn Baudelaire initially worked with FTF Coconino Regional Council Member Noreen Sakiestewa, who chose the book to be translated.
"How do we reinforce early literacy without materials in the languages of the communities we work in?" Baudelaire said.
"(Early childhood) is the optimal period for natural language acquisition and development of the first language," said Sheila Nicholas.
Sakiestewa, who is the Director of the Department of Education for the Hopi Tribe, chose "Loving Me" by Debby Slier to be translated because it reinforces family love and the different types of family relationships.
In working with the translation, they were able to reflect specific relationships such as paternal uncle and paternal aunt, which reflects their clan system, Baudelaire said.
Anita Poleahla, a fluent Hopi speaker and one of the founders of Mesa Media, translated "Loving Me," which was originally in Navajo, into Hopi. Mesa Media's mission is to revitalize the Hopi language, which encompasses the philosophy of land stewardship maintained by Hopi people for centuries.
"Hopi may be the language of the heart and the language from which Hopi find spiritual renewal, but English is the time in which we live," Poleahla said in an interview with KUYI Hopi Radio in a recent read-aloud event to help promote and encourage use of the book. English allows Hopi people to choose what is best for them, she said.
"Hopi language is sacred. It is subtle," Poleahla said. "Hopi people say precisely what they mean in a language designed to express many things which there are no English equivalent. Hopi language is more than a method of communicating. It connects us to our ancestors."
An online reading of "Loving Me" was hosted by Hopi Day School, in partnership with FTF, on KUYI Hopi Radio to kick off the Week of the Young Child in mid-April.
Kelly Nasingoetewa, a second grade teacher at Hopi Day School, read the book which was broadcast on-air on KUYI Hopi Radio and available to watch on the station's Facebook page.
"The book is a first step in teaching the children and sometimes the parents," Nasingoetewa said. "Not all of them know the language. They can be learning along with them. Simple words are a good start."
Maintaining Native American languages by teaching them to babies, toddlers and preschoolers and their families is important to preserve culture and identity, said Sheila Nicholas, who is a member of the Hopi Tribe, an associate professor at the University of Arizona and a faculty instructor for the American Indian Language Development Institute.
"(Early childhood) is the optimal period for natural language acquisition and development of the first language," said Nicholas, who spoke at the 2019 FTF Early Childhood Summit. "It is a time when the natural environment and conditions are that the child is immersed in a language-rich environment provided by significant caretakers that may include extended family members—such as grandmothers who have been central in traditional childrearing practices."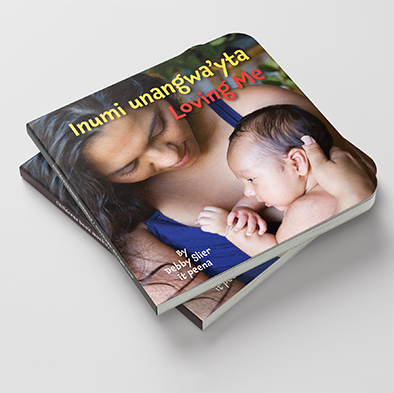 FTF purchased 500 copies of the book and worked with the Hopi Foundation and the Hopi Health Care Center to get the books in the hands of families with young children.
FTF Champion Hannah Honani, who co-leads the Hopi Foundation's Emergency Relief Fund, helped distribute the books to preschools and elementary schools whose families had young children. And the health care center distributed books through well-child visits.
"Loving Me" has also been distributed to Hopi families through a parent book club that is hosted at the Hopi Day School.
Family reaction has been positive, Nasingoetewa said.
"They're excited that there's a book in Hopi that's for kids," she said. Even though Hopi language has different dialects and the book only provides one, "it is an opportunity to read the book and say, 'This is how they say it' or 'This is how we say it.' They're thankful for that."