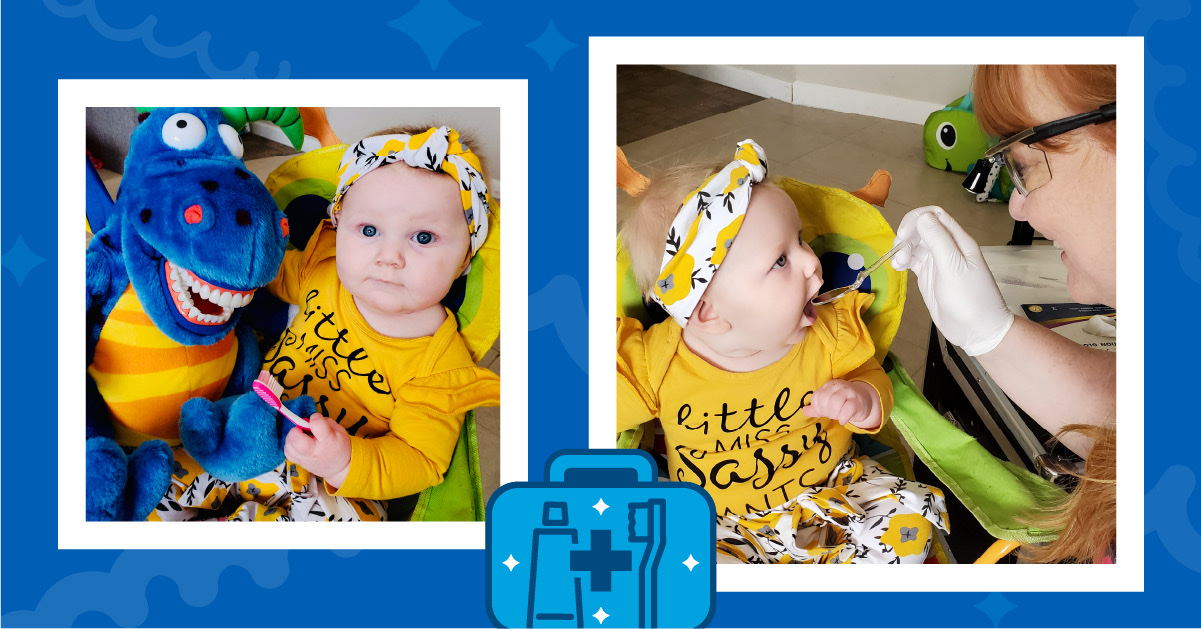 Recent upgrades to the First Things First Oral Health Strategy – including collecting more information about who is being served — has shown that services are reaching children who are most vulnerable to tooth decay. This is important since tooth decay is the single most common chronic childhood disease and can cause lasting harm to a child's health and impact their cognitive and social development.
Oral health services funded by FTF were delivered to children and expectant mothers most at-risk for poor oral health due to socioeconomic factors. This is according to data collected during State Fiscal Year 2019, the last full year that data is available since the pandemic put a halt to most oral health services in 2020.
For example, 59% of children served lived in households at 130% or below the federal poverty level, while they made up just 34% of the overall population in those service areas. Other data show that of all children screened, 66% had high-risk scores in their first screening.
"We are reaching the intended audience," said FTF Senior Director for Children's Health Vincent Torres, and that means the strategy is doing what it's designed to do — help children and pregnant women that may have developing or current oral health problems and/or are not actively seeking dental care.
FTF funded the oral health strategy in 14 FTF regions in SFY19 and served 24,664 children through oral health screenings and/or fluoride varnishes. In addition, an oral health risk assessment determines a child's level of risk. The screening and assessment help in providing parents, caregivers and expectant mothers with the proper oral health guidance.
Previously, the oral health strategy provided oral health screenings, fluoride varnishes and patient education. But FTF officials are always looking for ways to help families and children in better ways.
In SFY19, outreach and education was added for medical and dental professionals, as well as to child professionals, teaching them about the importance of oral health in pregnancy and early childhood.
Also, a new referral navigation system was built into the strategy that includes case management to help the family get connected to a dental home.
"That person is responsible for finding a dentist in the area that is close to the family," Torres said. "It took on the challenges of navigating the system so families aren't burdened with that."
He acknowledged that the new component presented challenges in implementation in its first year.
"There's a level of ramping up," Torres said. "It's a lot harder when you have to do the follow-up with the child's family. How do you make sure that child is getting in to see the dentist? If a child did go to a dentist appointment for decay, the grant partner had to check to see if the child received services. It takes someone who is knowledgeable with the care, knows the providers in the area and is skilled at patient education and communicating with the family."
In addition to children, expectant mothers are the other intended audience. Pregnancy often causes changes in the mouth including infection and gum disease, which may be a risk factor for low birth weight and premature birth.
Engaging expectant mothers has always been a challenge, Torres said.
"Women are not lining up to open their mouths. Typically, services are offered in places where there's not a lot of privacy," he said.
Even if expectant mothers turn down a screening, grant partners can provide educational materials that the mothers can read. They've also found ways to provide more privacy during a screening, Torres said.
Ultimately, getting children in to see a dentist early and helping expectant mothers understand the importance of a healthy mouth leads to overall better health and development for moms and the children.
"Sometimes families don't typically value baby teeth," Torres said. "That has been a big barrier to ensure we're reaching these children. Parents and caregivers aren't aware that the health of baby teeth impacts their ability to chew, eat, speak clearly and eventually smile with confidence.
"But our grant partners are doing a good job attempting to identify risk level and identify urgent oral health needs."
FTF is supporting those efforts by helping to increase awareness of young children's and expectant mother's oral health. In partnership with other state agencies and organizations, a new online Healthy Teeth resource was launched last month. The resource helps more families understand the importance of early oral health and what they can do to help prevent tooth decay.