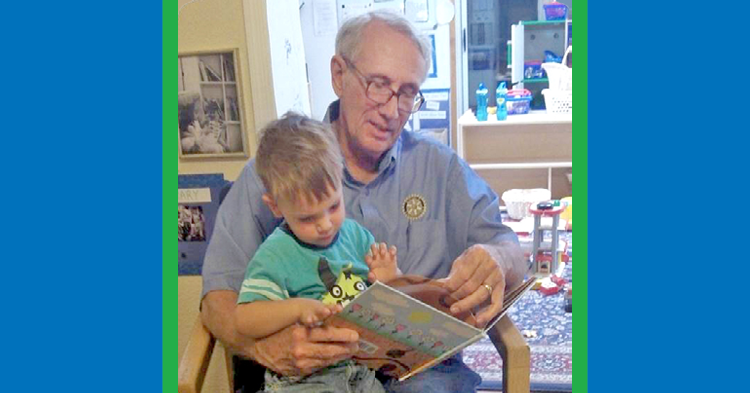 Service clubs like Kiwanis, Lions and Rotary International have a long history of working to build strong communities. Recently, more and more of these groups have recognized that supporting early childhood health and development is critical to ensuring a positive future for Arizona's communities, towns and cities. Throughout the state, they have partnered with First Things First to help more young children have the quality early experiences that will prepare them to learn, grow and succeed.
Research shows that children exposed to quality early education are more ready for kindergarten, do better in school and are more likely to graduate and go on to college. So local service organizations such as Rotary and Lions clubs recognize the value of working to ensure Arizona's youngest children are healthy and prepared when they enter kindergarten.
For example, the Rotary District 5500 – which includes Rotary Clubs throughout Southern Arizona — has partnered with FTF to invite early childhood experts to speak at the last two District annual statewide conferences. These speakers have sparked individual clubs to support early childhood initiatives in their local communities.
Some of these initiatives include early literacy projects, such as providing books to preschools and sponsoring Little Free Libraries, with a focus on young readers. For example, many Rotarians are now serving as reading mentors to children enrolled in Early Head Start and Head Start programs in the Globe-Miami area. In Bisbee, the local Rotary Club provided education for parents on the importance of reading and tips on reading  to young children.
In Coolidge, the Rotary Club worked in partnership with the United Way of Tucson and Southern Arizona to sponsor 11 young children to enroll in the Dolly Parton Imagination Library, which mails an age-appropriate book to the child every month.
The Rotary Club of Valle Verde developed a grant that sponsored professional development training for the preschool teacher at the Arivaca Preschool, along with the purchase of books and providing volunteer reading mentors for preschoolers in the Arivaca community.
The Rotary Clubs in Marana and Dove Mountain partnered to distribute 1,000 books to families with children birth to age 5 who were participating in the Women, Infants, Children program at MHC Healthcare.
But projects aren't limited to early literacy, they also include a focus on children's healthy development in the early years. In Maricopa County, the Peoria Lions Club connected with the local FTF staff to discuss ways to partner.  FTF staff connected club members with the local Peoria Family Resource Center. Now, the Lions Club provides vision screenings in conjunction with oral health screenings that are held at the Family Resource Center. The club also provides glasses for young children when needed.
All these efforts help ensure that children have high-quality experiences during these critical early years, which has tremendous impact on kids and their communities. Research shows that 90 percent of a child's brain develops before age 5. In addition, critical skills like motivation, self-discipline, focus and self-esteem – the skills needed for success later in life — begin to take root from birth.
It is crucial young kids receive support from family and their community. Here are just a few ways that service clubs can be encouraged to make a difference in their future – and ours.
Invite FTF to speak about the importance of the first five years and learn more about the programs and services provided in your community.
Visit FirstThingsFirst.org/Take-Action to subscribe to FTF's newsletter and learn more easy ways to get involved.
Organize a community fair for families and invite FTF and our community partners to share information about programs and services available to help their young kids get a strong start.
Connect with early childhood or family support programs in need of ongoing volunteer efforts — to read with young children, organize book drives, refurbish classrooms or playgrounds, etc. FTF staff can help make connections to opportunities.