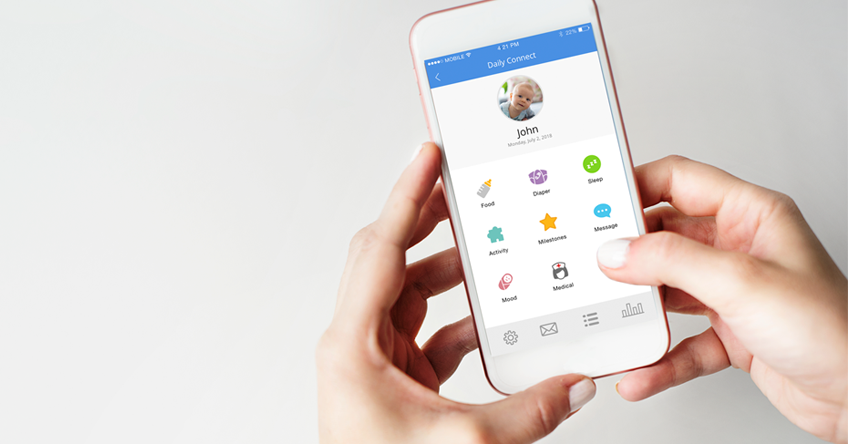 Eve Hoskins, Ehmke's Childhaven Preschool director in Show Low, knows that many of her students' parents are racing against time as they pick up their child.
The clock ticks as parents ready dinner. Tick tock and its bath time followed by 20 minutes of reading with their child. Then to the finish line of tucking kids in for bed. The daily routine might not leave parents the time needed to talk to teachers about their child's day during pick up or drop off at preschool or child care.
The answer for Hoskins was to use technology to improve parent communication.
"Parents today are using technology for everything," said Hoskins, adding that 90 percent of the center's parents work full-time, and some work second jobs. "We wanted our families to have an easy way for them to check on their child's day when it was convenient for them."
The center uses a mobile app called Daily Connect to keep parents up-to-date on the goings on of their child during their preschool day. The program gives parents access anytime to reports of their child's daily behaviors, eating habits and preschool activities, among other things. It is one of many apps available to child care centers and preschools to keep parents informed.
Ashley Dodd, whose son attends Ehmke's Childhaven, said she logs in daily.
"It lets me know what he needs to improve on and how he did with his friends throughout his day," Dodd said.
Engaging families
Engaging families is an important part of the center's quality standards for serving children and families. The center participates in First Things First's signature program, Quality First, which helps centers make quality improvements that research proves help children thrive, such as creating learning environments that nurture the emotional, social and academic development of every child.
"Engaging families in a child's earliest educational experiences in child care can make a huge difference for both the family and the child," said Quality First Director Leslie Totten, who oversees the program statewide. "The family learns from the beginning that they are the child's biggest advocate and are an important partner in supporting the child's learning."
The Quality First program supports family engagement by encouraging centers to regularly collect family information on a child's development and to share curriculum with families.
For parents, this means they are more able to get involved in their child's education, and technology gives them a wider time window to engage. Parents can log in while on lunch breaks or during quiet times at work and communicate with teachers.
Parent Lucelia Taylor, whose son, Dylan, also attends Ehmke's Childhaven, said that she logs in daily to check on his behavior.
"When there are positive reports, I love to praise and acknowledge his excellent behavior and share with him that I am proud of him," Taylor said.
Sometimes the reports helps her instruct his behavior at home.
"I am able to teach him a valuable lesson as to why we keep our hands to ourselves or how words can hurt," Taylor said. "He's not able to participate in extra activities if there is continuous bad behavior."
Maintain focus on child
While communicating with parents is important, Hoskins knows that entering information shouldn't distract staff from caring and interacting with children.
"The staff only uses the tablets to enter information during nap time or if something significant needs to be added," Hoskins said. "We wanted to take advantage of all the technology out there to better communicate with our families, while also maintaining program quality. Our centers philosophy is that our focus is on the children all the time."
Making the effort to maintain the quality of care, but adding a convenience for working families has had a positive result.
"Having this service is improving how comfortable our families feel when they leave their child for the day," Hoskins said. "They know that mid-day they can log in to their account on the website and check and see how their child has been doing. This has opened up the communication with our families."