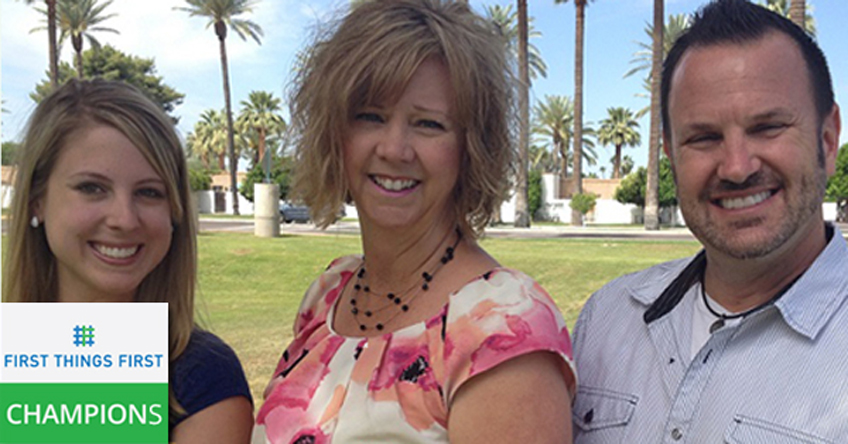 An informal team of education leaders from the Litchfield Elementary School District are helping families to access tools that help their young children prepare for kindergarten by partnering with early childhood organizations, including First Things First.
While Litchfield educators Kacey Baer, Pete Kovats and Jodi Gunning all work in different departments in the district, they teamed up to consider ways to proactively reach out to the community and the many young children in their district who are not exposed to preschool.
"Spreading the word about how important early childhood interactions are is crucial," said Gunning, who is the district's Coordinator of Title I and Community Resources. "We found that many families were thirsty for information to be an advocate in their child's learning. Together with our community partners we are able to provide the information our parents are craving."
Last summer, the team began coordinating with local libraries and area programs to introduce families of young children to kindergarten readiness and the importance of building critical skills like motivation, self-discipline and focus, which begin to take root from birth to 5 years old.
Kovats, who is the district's Community Education Coordinator, said that instead of spending time and money on intensive intervention programs in kindergarten, the team wondered what the outcome would be if they helped district kids before they reached the kindergarten classroom.
First, they connected with families attending baby and toddler story times at the library to share additional resources and First Things First information with them. Then, an FTF-funded partner, Nurturing Parents Raise Great Kids, hosted a 12-week evening program where parents worked on positive parenting strategies and kids attended kindergarten prep classes.
In addition, the district, which has nine elementary schools, began a free kindergarten jump start program. This program gave kids a three-week pre-kindergarten experience so that they could become familiar with the school building, staff and develop daily routines and critical social skills. The district also partnered with First Teeth First to provide free dental screenings and fluoride varnishes for the kids during the program.
"The tremendous positive impact early childhood programs and preschools had on our incoming kindergarten students made us realize how imperative this education is," Kovats said.
Earlier this year, the trio was honored as the FTF Southwest Maricopa region 2016 Champions for Young Children for their work in spreading the word and building understanding about the importance of the early years.